Welcome to Bongro, your premier source for garbage bin rentals in Vaughan, Toronto, and Oakville, and the surrounding area. If you're undertaking a new landscaping project, we know waste management and disposal can be a hassle.
For these reasons and more, we provide reliable, affordable garbage bin rentals to make your next landscaping project go as smoothly as possible. Our waste bin rentals are excellent tools to assist with:
Renovations
Decluttering Homes
Seasonal Yard Work
Construction Debris Disposal
Removing Old Appliances, Fixtures, etc.
Renovation Waste Removal
Special Events for Quick & Efficient Cleanup
Benefits of Using Garbage Bin Rentals for Landscaping Projects
When you choose to use our waste bin rentals, you're making a smart choice for your landscaping project. Here are just a few of the benefits that our customers enjoy:
Streamlined Waste Management
Our garbage bin rentals make it easy to manage the waste generated by your landscaping project. No more piling up debris or making endless trips to the dump via pickup truck.
By keeping your workspace entirely free of debris and clutter, you'll reduce the risk of accidents and injuries and find that you have a better sense of mental clarity without cluttered piles in the vicinity. Our waste bins are also equipped with safety features like locking lids and sturdy construction for the most heavy-duty landscaping makeovers.
We're committed to sustainability, which is why we offer recycling and disposal options for all the waste generated by your landscaping project.
With our waste bin rentals, you can focus on your project instead of worrying about waste management. We'll take care of everything for you, from delivery to pickup.
Different Garbage Bin Sizes Available for Rent
We understand that every project is different; we offer a wide variety of waste bin sizes to choose from. Our sizes range from 6 to 40 cubic yards, so you can choose the right size for your specific needs. Whether you're working on a small residential project or a large commercial job, we have a waste bin that will work for you.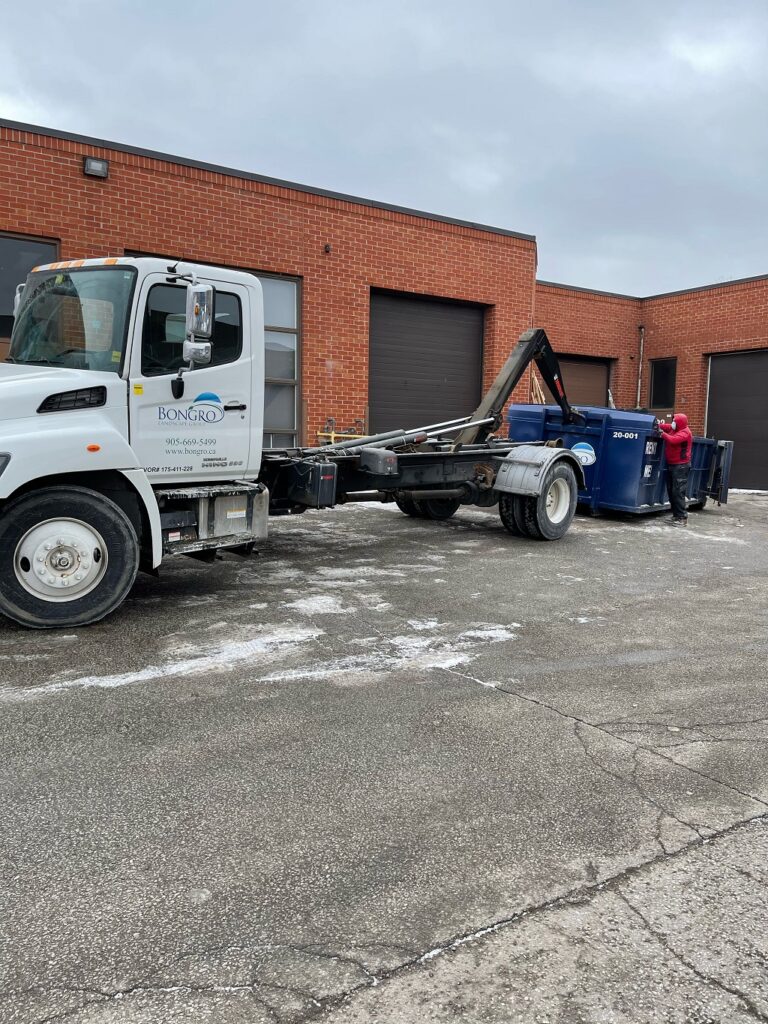 We'll Help You Choose the Right Garbage Bin Size for Your Project
Choosing the right garbage bin size may seem confusing, but our experts make the process simple and straightforward. Here are a few tips to keep in mind when selecting a waste bin size:
Estimate the amount of waste you'll generate:
Consider the size of your project and the type of landscaping waste you'll be generating (trees, sod, gravel, etc.)
Choose a size that's slightly larger than you think you'll need:
It's better to have a little extra space than to run out of room and order an additional bin—or, again, rely on old-fashioned and smelly trips to the dump. Some rural individuals tend to dump landscaping waste on their property. Still, our garbage bin rental and disposal options are much more environmentally sustainable while providing peace of mind and a clean workspace.
Landscaping Company in Vaughan, Toronto, and Oakville
Recycling & Disposal
At Bongro, we're committed to sustainability. That's why we offer recycling and disposal options for all your project's waste. We work with local recycling centres and landfills to ensure your waste is disposed of responsibly.
Rental Pricing and Payment Options

We believe in transparent pricing, affordable waste bin rental rates, and no hidden fees. Our Greater Toronto Area garbage bin rental pricing is based on the size of the garbage bin you choose and the length of time you'll need it. We offer flexible payment options, including credit card and invoice billing.
Delivery and Pickup Process for Garbage Bins
At Bongro, we make it easy to rent a garbage bin from us. We'll deliver the container directly to your worksite and place it in a convenient location for immediate use. When you're finished with your project, simply give us a call, and we'll come to pick up the waste bin. It's that easy!
We provide waste bin rentals to the following locations:
Toronto

Vaughan

Oakville

King City

Other surrounding regions in the Greater Toronto Area